1002063 Mavea Purity C1000 AC is a 0.5 micron Activated Carbon Block Filter reduces Taste and Odour.
Sub micron filtration for protection from Giardia and Cysts.
Ideal for using in soft water areas on the following applications.
Drinking Water Filtration?Under Sink water filter for the Home or Office.
Water Dispensers
Water Coolers
Vending Machines
The PURITY C AC filter cartridge reduces cloudiness from dirt and sediment, organic pollutants as well as any bad tastes, smells and odours caused by?chlorine and other impurities.
The filter material retains particles down to a size of 0.5 ?m.
Recommended head setting 0% (10,000 litres of chlorine reduction)
Dimensions 231mm high x 88mm wide
Suits the Mavea Purity C Heads
Filtration stages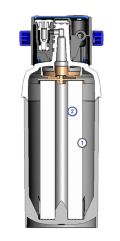 1. Prefiltration

Expansion media traps coarse impurities (e.g. sand) before they reach the carbon block

2. Activated carbon filtration

Substances that can impair taste and odour (such as chlorine) are eliminated. The particularly fine pores of the carbon block ensure that particles measuring up to 0.5 ?m are retained in accordance with NSF Standard 42.